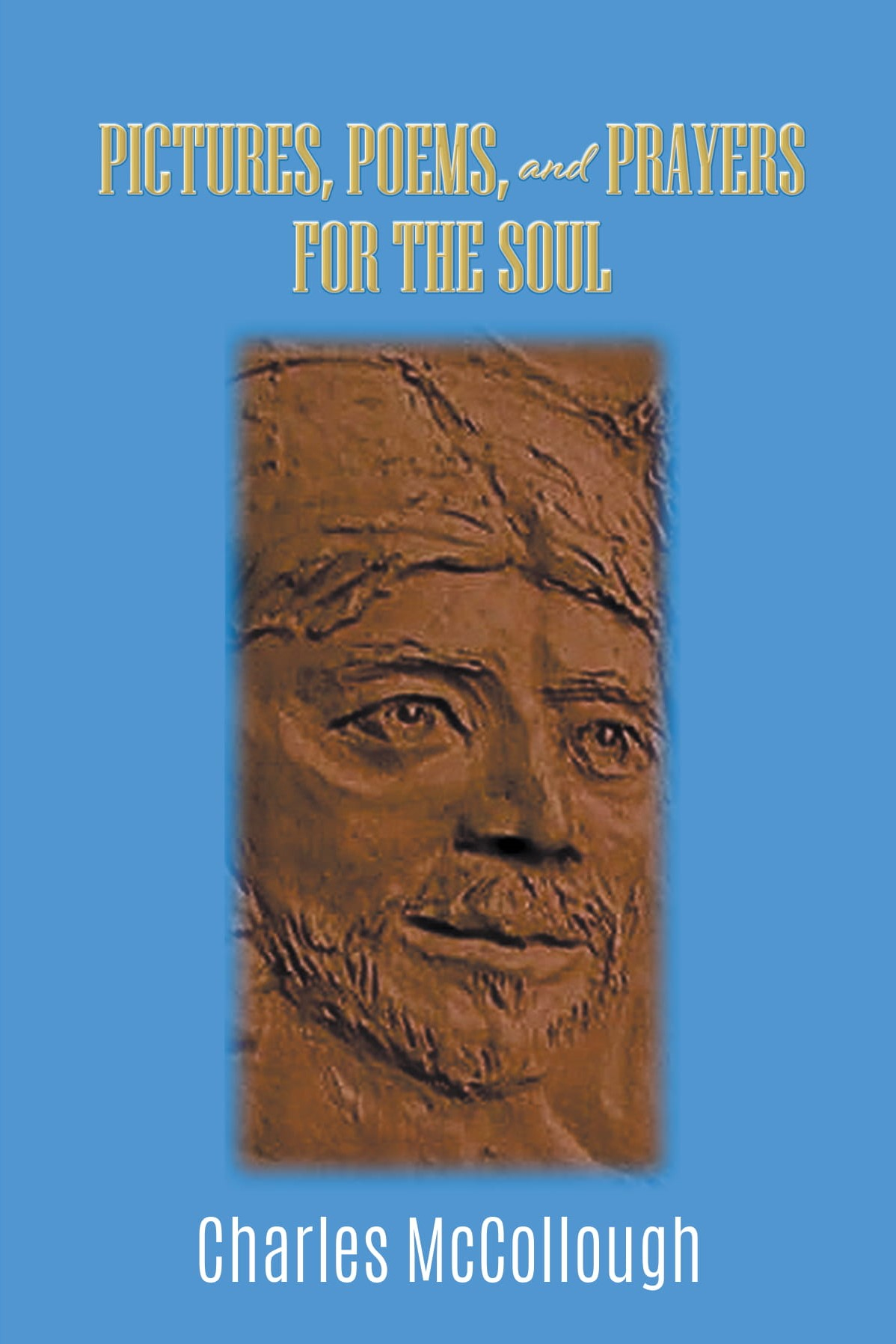 Pictures, Poems, and Prayers for the Soul,
Go to Publish, 2021.
The Introduction to Pictures, Poems, and Prayers for the Soul, the tenth book by Charles McCollough, relates his growing up in "Lower Branchwater, Texas", and then his search for faith through 12 years of higher education. Finally, when he was finishing his doctorate in theology, he discovered that he had a peculiar gift of visual imagination called dyslexia that made traditional learning a challenge. He learned to make that difficulty into a blessing by using his art to communicate his message of grace.
The three main sections of the book consist of a combination of story-telling, drawings, sculptures, poetry, and prayers that illustrate how McCollough's different way of learning became a blessing. There are 50 of his poems illustrated with his sculptures and drawings, followed by 39 prayers from his years ministering in a local church. The epilogue is an account of his testimony before a committee in the U. S. Congress and an experience from his years of working for social justice with church conferences.
After graduating from the University of Texas with a B.A. and from Perkins School of Theology (Southern Methodist University) with a B.D. and from Drew Graduate School with a Ph.D., he was ordained and served a church in Barrington, RI as the Teaching Minister. He then served the national staff of the United Church of Christ as an adult educator and then as a policy advocate for social justice in Washington, DC. All along he developed his skills as an artist. His books and presentations are illustrated with his drawings and sculptures.
The book is available from Barnes and Noble, Amazon, and Go to Publish.
---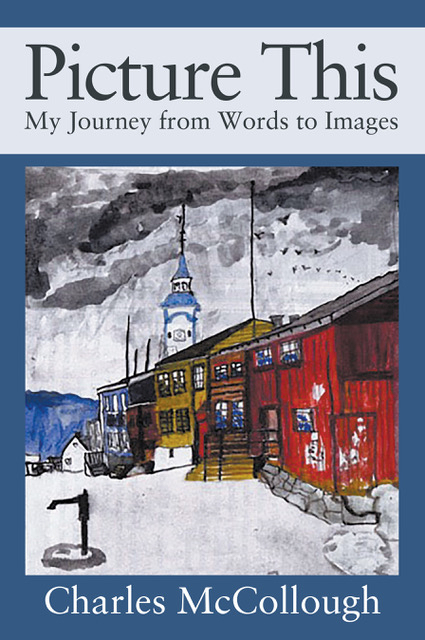 Picture This: My Journey from Words to Images,
Outskirts Press, 2019.
Charles McCollough has just published his ninth book, Picture This: My Journey from Words to Images. With his drawings Charles takes us on his inner pilgrimage from coping with his Dyslexia by pursuing athletics, seminary and grad school, serving as a local pastor/teacher, and then working for the national office of the United Church of Christ, doing adult education and peace and justice advocacy. He discovered that his gift for artistic expression can intersect his calling as a Christian teaching minister with that of his passion for social justice. After earning his Ph.D. at Drew University, he began to study art and ultimately to use it to illuminate a spiritual layer of feeling and understanding beyond what the written and spoken word can express. He has served as artist in residence at five seminaries, and his sculptures are on permanent display at many of them. Picture This uses his drawings to take us on his deeply personal journey throughout the world doing his unique ministry of illuminating the gospel with the visual.
The book is available from Amazon.
Publisher's Notes:
Despite his love of learning, Charles McCollough had always felt estranged from the world of the printed word. Growing up feeling that he was "slower" or "not as smart," he turned to boxing and football for success as he continued to struggle to understand why it was so hard to comprehend written words. Finally, when working toward his PhD in theology, he discovered that he was dyslexic--and a lifetime of confusion and frustration suddenly made sense. All his life, Charles had constantly created images to describe his experiences and thoughts. Picture This is an extraordinary memoir, with visual memories taken from forty years' worth of daily journals that he kept during a lifetime of travel and work. Follow his inward journey as he claims his talent and gift as an artist, discovering how artistic expression intersects with his calling as a spiritual seeker and social justice worker. Rejoice along with Charles as he learns that his authentic creations in diverse media, from drawing to sculpture, illuminate a layer of feeling and understanding beyond what the written and spoken word can express. Both deeply personal and broadly relatable, this story of a dyslexic who harnessed the power of visual expression is a moving and inspirational example of a man who kept seeking until he found--and was found by--the grace of creativity.
---
The Non-violent Radical: Seeing and Living the Wisdom of Jesus,
Wifp and Stock Press, 2012.
This book interprets the wisdom of Jesus' sayings in the gospels in words and images.
Read article by Lois Huey-Heck in The Christian Century.
Read reviews.
The book is available from
Amazon
.
---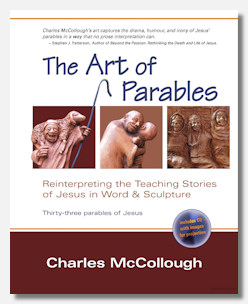 The Art of Parables: Reinterpreting the Teaching Stories of Jesus in Word & Sculpture(with multi-media CD),
Copper House, an imprint of Wood Lake Press, 2008.
A new visual and scholarly look at the parables of Jesus with numerous images of them in the text and on a colored DVD (included). Three PowerPoint programs on all of the main parables in the Gospels of Mark, Matthew, and Luke.
The book, including the accompanying DVD, is available from
Amazon
.
---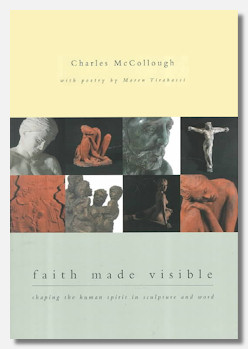 Faith Made Visible: Shaping the Human Spirit in Sculpture and Word, (illustrated), with poetry by Maren Tirabassi,
United Church Press, 2000.
Six essays on the Bible, theology, and art with 40 images of McCollough's sculptures and matching poems by Maren Tirabassi.
---
Resolving Conflict with Justice and Peace,
The Pilgrim Press, 1991.
A book explaining how conflict dynamics work on personal, interpersonal, and large group levels with exercises on how to balance unequal power and mediate conflicts beginning with church fights, including stories of international resolutions that have avoided war.
---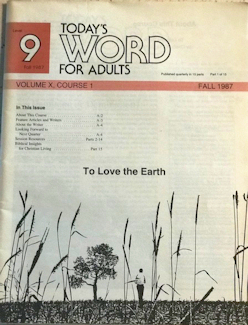 To Love the Earth, (Today's Word for Adults) Curriculum, vol. X, course 1, (Illustrated)
Christian Board of Publications, fall 1987.
An adult 13-session course on environmental issues with a teacher's guide giving what, why, and how to learn and act on these issues, such as global warming and sustainable development.
---
Heads of Heaven, Feet of Clay, (Illustrated),
The Pilgrim Press, 1983.
Applies faith development theory to adult faith journeys with practical exercises on how faith can grow.
---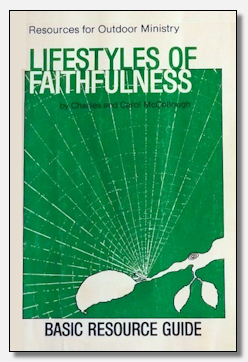 Lifestyles of Faithfulness: Resources for Outdoor Ministry, (with Carol McCollough),
Bethany Press, 1983
A resource book for integrating environmental issues with outdoor ministries.
---
The Morality of Power: A Notebook on Christian Education for Social Change, (Illustrated),
United Church Press, 1977
An adult study of how power works in society with exercises on how to act for a more just society. Illustrated.